Sumo Developer Conference – Day One highlights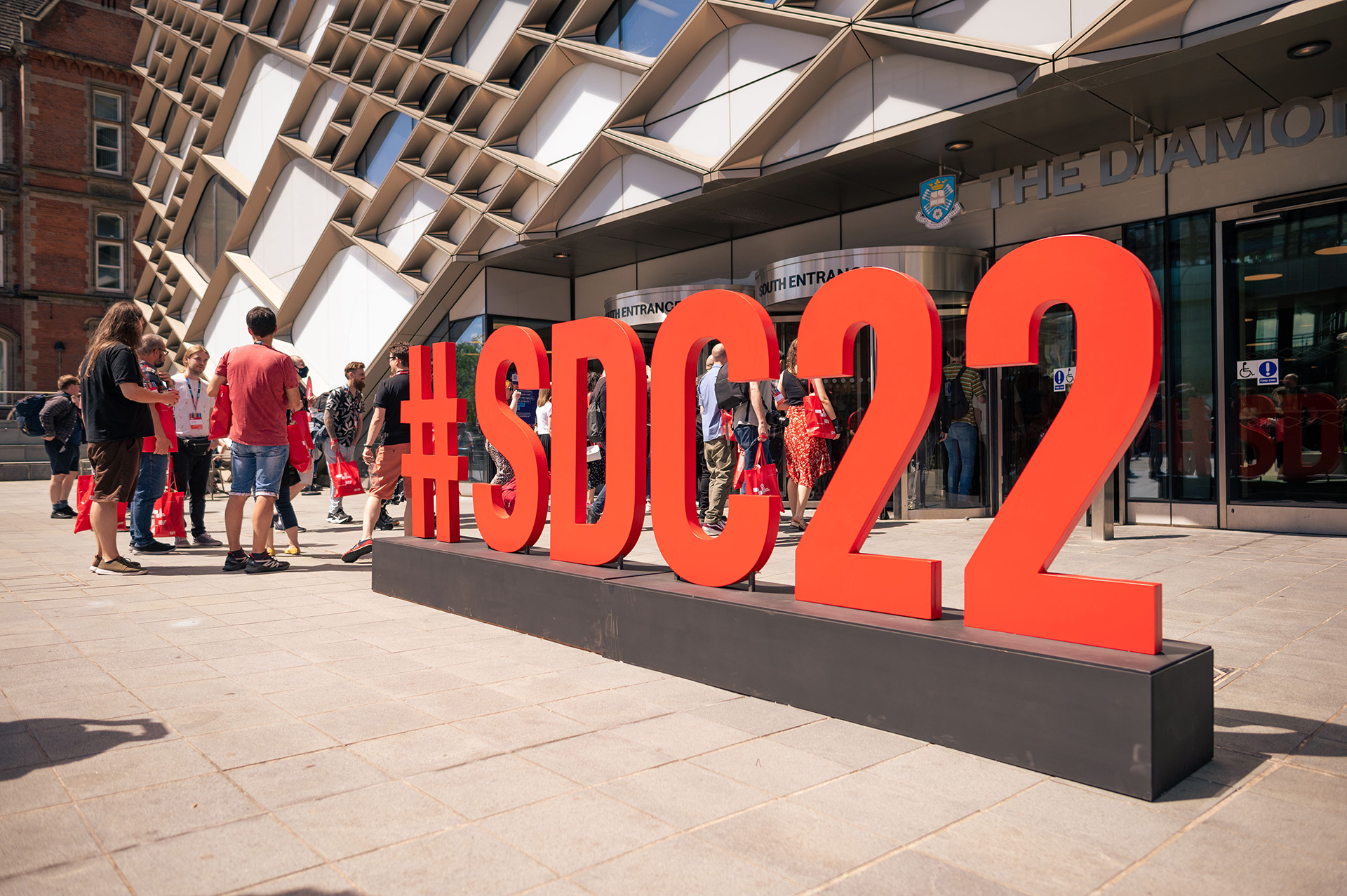 Day One of the inaugural Sumo Developer Conference has come to an end!
Hundreds of our people descended upon Sheffield University today to soak up knowledge through a series of insightful and inspiring talks from the talented teams at Sumo Digital's studios. Whether they attended a handful of talks or every single one, SDC visitors have been treated to a wealth of expertise and industry knowledge.
Sumo Digital is committed to the learning and development of its people and seeing the success of the first day at SDC makes us very proud of everyone involved. Here's a recap of some of the sessions we can talk about openly, there were some super exciting confidential projects being talked about also (but we can't share those yet!)…
Morning, everyone!
Starting at 10 am our networking morning was an ideal time for everyone to meet fellow Sumo Digital studios and grab some refreshments ahead of the busy day.
Gary Dunn takes to the stage
Sumo Digital Managing Director Gary Dunn took to the stage to kickstart our first-ever Sumo Developer Conference. Gary spoke about the event and what our people could expect throughout the day.
An UNREAL experience
Session One got underway with a talk from Epic Games' Ari Arnbjörnsson, giving the audience a closer look at Unreal Engine 5, the latest powerful game engine that Sumo Digital's studios will and are working with on future projects.
Effective AI
The Chinese Room Technical Director Charly Mould presented an open talk on 'Effective AI Development - What is your expectation?'. Charly talked about various aspects that come together to create believable characters, as well as a focus on effectively communicating design and the importance of player interpretation.
The art of VFX
Over to our first SDC Art Demo talk, where Danielle Viljoen hosted the 'From Paper to Engine' talk on how VFX are designed before becoming actual VFX!
PRISM at the table
Sumo Group EDI Manager Leon Killin was joined by several of our Diversity Champions throughout the day to discuss PRISM, our employee-led initiative that plays a vital role in helping to support and effect change whilst raising awareness around equality, diversity and inclusivity at Sumo Group.
Tackling Imposter Syndrome
A topic that is often heard but not really understood or talked about in detail. Lee Morris from andpartnership, joined SDC for Session Three's open talk 'Imposter Syndrome: What it is, how to spot it and tips to minimise it'.
Lee discussed some of the signs and indicators, and techniques to minimise this restrictive self-limiting belief, and shared his own personal experiences of imposter syndrome and how he has learnt to manage it.
Back with Epic Games
With two new talks from Epic Games going into the latter stages of Day One at SDC, those in attendance had the choice of checking out 'Lessons learned from a year of Unreal Engine AAA development' and the 'Blueprint tips & tricks' talks on the day.
Day One of SDC is over!
And that's it! Day One of our fantastic Sumo Developer Conference ends. We're heading over to the dinner and party event at Kommune and the National Videogame Museum!
We look forward to seeing everyone again tomorrow for Day Two of SDC.